Date TBA
Join Ritchie on a river journey down the Salmon River – River of No Return. Ritchie has a special connection to the Salmon River Canyon, where his mother is from, Shoup, ID. Move at the river's pace and leave the rest of the world behind. This 90-mile stretch of premier Idaho whitewater is a classic river trip of the American West. The Salmon River carves out the second deepest canyon in North America. Each year run off deposits fresh sand beaches, creating a river paradise at every camp.
The craft…
The Main Salmon is a class III whitewater river. Most of the rapids are pool-drop or wide S-curves and empty into calm pools. This is perfect for whitewater enthusiasts of all levels. Kick back and relax on an oar boat, join a paddle team or jump in an inflatable kayak for the maximum adventure.
The canyon…
Barth Hot Springs, a highlight of the trip, is a natural hot springs with amazing views of the river. This free-flowing river cuts through the Frank Church River of No Return Wilderness, largest road less area in the lower 48 states, wildlife is abundant—Bighorn sheep, deer, moose, black bear, otters and water fowl
Ritchie Doyle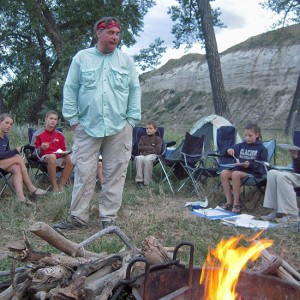 Ritchie Doyle is an actor, artist, teacher, writer and Independent scholar, born and raised in Western Montana along important parts of the Lewis and Clark route, giving him a down-to-earth understanding of their difficulties and fatigues on the rivers and in those "tremendious" Rocky Mountains. Mr. Doyle has been a member of the Montana Committee for the Humanities Speakers Bureau since 1993 and has presented William Clark nearly 200 times, including appearances for The Montana Historical Society, The Lewis & Clark Interpretive Center (Great Falls, MT), Montana Storytellers Roundup and The Western Heritage Center. On April 29, 2003 Mr. Doyle presented William Clark at the Smithsonian Institution in Washington D.C.
Ritchie Doyle made the trip for me! His boundless energy and talent regarding the history, stories, songs and musical ability were amazing. The Corp of Discovery came alive with this man. I can't say enough about how he made the trip an exciting awareness of our heritage…
Sheila Miller
Loveland, CO