Email this page to a friend
Book a Reservation!
Rates & Dates
Lochsa River Whitewater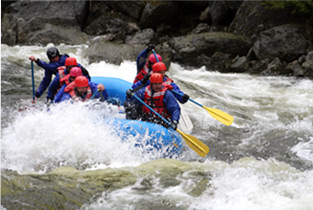 When the snow melts, the Lochsa River awakens, one of the greatest whitewater flows in the country – and the world. Pronounced "lock-saw" which means rough water in the Nez Perce Language. 37 Class III, 25 Class IV, and two Class V rapids will get your arms burning and your heart pumping. The names of the rapids say it all – Grim Reaper, Pipeline, Lochsa Falls, Termination – and you won't get much rest between.
As Outside Magazine says, "Unlike other big western whitewater, which runs pool-and-drop, most of the Lochsa simply drops, with little respite between rapids."
Our trips are based from our outpost cabin at the historic Lochsa Lodge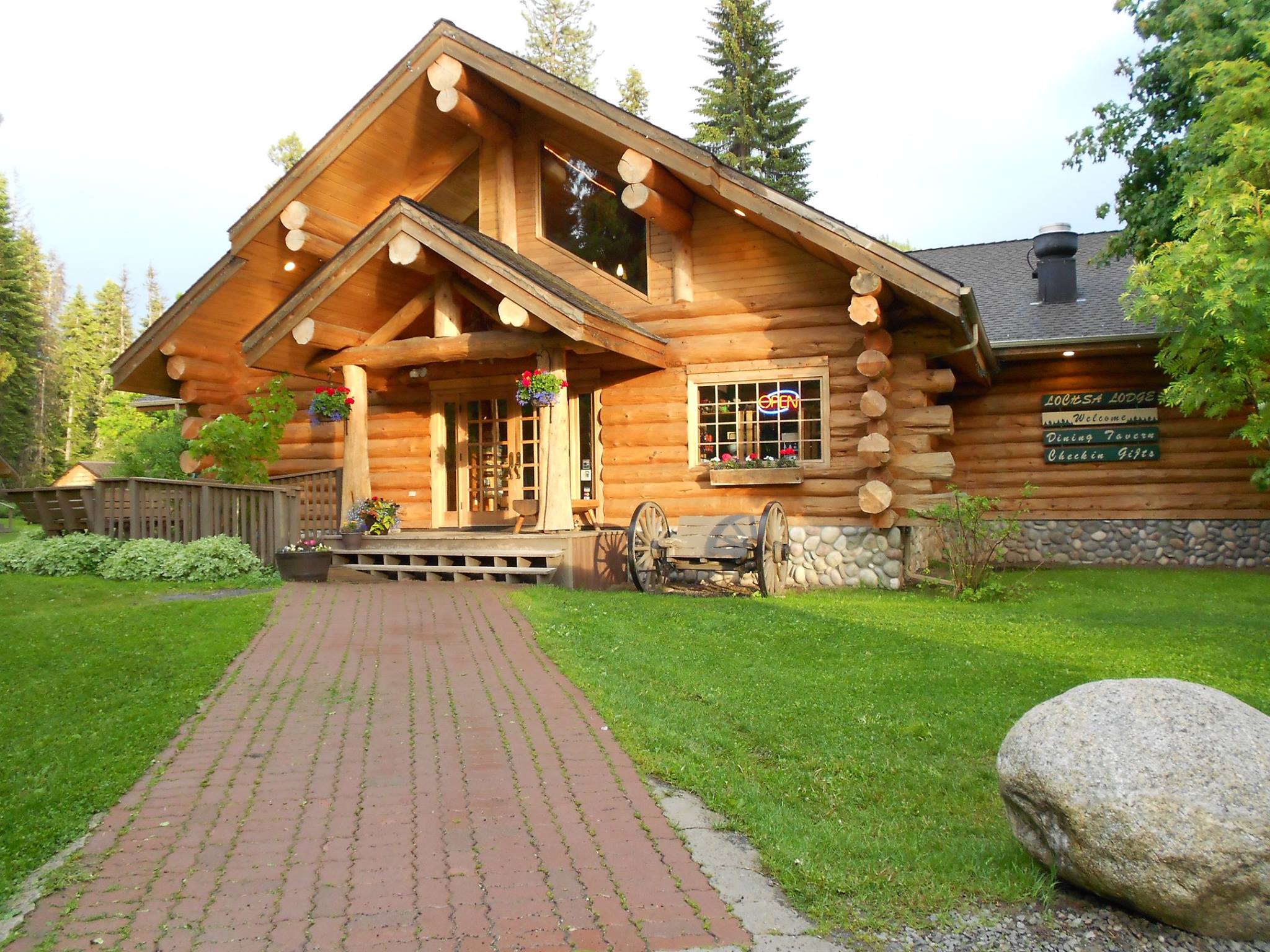 Choose from a variety of cabins, fresh comfort food at the restaurant, local brews at the bar and bonfire at night.
Order video from YOUR trip! Call us at 406-728-7609 or send us an email at .(JavaScript must be enabled to view this email address)
The Lochsa is a free-flowing river and navigable only during high water, this trip is available during May & June. Peak flows are usually mid-May to Mid-June and may be available in early July only when conditions allow.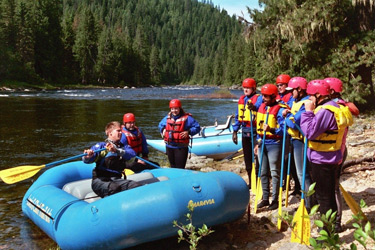 Safey Talks on the Lochsa
We understand that much of your experience relies on the personality and expertise of your guide. Rest assured, LCTA Lochsa River guides know how to show you a good time, beginning with a complete safety briefing prior to launching. Some of the guides have been guiding the Lochsa for over 10 years!
Dry Suits available for rent

Your comfort and safety is the highest priority at LCTA. Advancements in dry suit technology is greatly improving their accessibility and can greatly enhance your whitewater experience! We are building our inventory, call or email for sizing, availability and individual or group pricing.
Trips are based from the historic Lochsa Lodge, only 50 miles from Missoula, MT. Surrounded by ancient cedar trees on the banks of the Lochsa river, you can enjoy a warm cabin, homemade meals from classic to gourmet. Call Lochsa Lodge at 208-942-3405 for cabin reservations. Camping available at Powell campground, short walk to Lochsa Lodge, call 1-877-444-6777 or go to reservation.gov. If you are driving from Spokane be sure to ask about the Petty Creek Rd cut-off connecting I-90 to Hwy 12, saving an hour of drive time.
Interesting facts about the Lochsa River from Wikipedia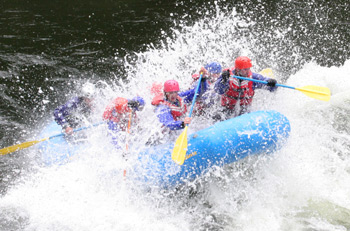 The main stem of the Lochsa is 70 miles (113 km) long from its headwaters near Powell Ranger Station in the Bitterroots to Lowell, Idaho, where the Lochsa joins the Selway River to form the Middle Fork of the Clearwater. Over this distance, the river drops nearly 2,000 feet (610 m) from 3,441 feet (1,049 m) above sea level at Powell to 1,453 feet (443 m) at Lowell. The drainage basin for the Lochsa River system covers 1,180 square miles (3,056 km2) in Idaho County. The river is fed by the melting of the significant snowpack of the Bitterroot Range.
Relating to Lewis & Clark
After traveling up Lolo Creek and over Lolo Pass they mistakenly followed a trail leading to a native American fishing weir on the headwaters of the Lochsa River, where Salmon return to spawn. They new the Lochsa River was not navigable for them and to further dishearten the corps they lost valuable time & energy losing elevation down to the rivers edge when they needed to stay high on the ridgeline cross Bitterroot travel route, the Lolo Trail. This error led them to the famous climb up Wendover Ridge.
Lochsa River Trips Rate & Dates
Runs May-Early July, Peak levels Mid-May to Mid-June
Lochsa River
$115
Lochsa River Hi-Adventure
$150
Early Season Special May 1-20
$95
Raft & Stay Package at the Lochsa Lodge
$140 May 1-20
$150 May 21 - End of Season
Price Per person based on double occupancy of rustic cabin.
Call the Lochsa Lodge for details: 208-942-3402
Dry Suit Rental
$30 per day
We recommend participants on the Lochsa River be at least 16 years old
Group discounts start with 7… more paddlers = bigger discount
Our Saturday & Sunday trips tend to be more popular, but if you are looking for Mon-Fri, call us for availability and discount, we need a group minimum to make a trip go
-Trips depart 8:00am PACIFIC TIME, from Lochsa Lodge (50 miles west of Missoula, MT on Hwy 12) and return approx 4:00pm, depending on water flows, higher flows return earlier.
-We Provide a professional and IOGA licensed whitewater guide, transportation to and from Lochsa Lodge, lunch on the River, wetsuit, neoprene booties, splash jacket, helmet, paddle, Coast Guard approved PFD, beverages for return drive and video showing at the Lochsa Lodge.
-Stay at the Lochsa Lodge, Call 208-942-3405 for reservations.
Directions from Missoula to Lochsa Lodge in Powell, ID
Missoula is serviced by all major airlines. Lochsa Lodge. Head south on Hwy 93 to Lolo, then west on Hwy 12 over Lolo Pass. Lochsa Lodge is 12 miles past the pass, same turn as the Powell Ranger Station.
Lewis & Clark Trail Adventures (LCTA) is a licensed service partner with the USDA Clearwater and Salmon National Forests, Bureau of Land Management, and Fish, Wildlife & Parks. We are members of the Idaho Outfitter and Guides Association
Contact us to plan you perfect adventure!
406-728-7609
800-366-6246
Gia by Mobile 406-529-0068
Wayne by Mobile 406-529-0069
.(JavaScript must be enabled to view this email address)
Book a Reservation!
Rates & Dates