See Cuba through the lens of Cuban-American history!
  Teddy Roosevelt and the Rough Riders – Bay of Pigs – Ernest Hemingway – Cuban Revolution
Travel changes you. As you move through this life and this world you change things slightly, you leave marks behind, however small. And in return, life – and travel – leaves marks on you. – Anthony Bourdain
More about Lewis & Clark Trail Adventures Tours in Cuba….Fall of 2023 Date TBD
U.S. relations with Cuba allows travel between the two countries. We travel to Cuba under the designation "Support of the Cuban People" This category of travel allows you to directly support our Caribbean neighbors, individuals and families by participating in guided tours of their homeland, eating in their privately owned & operated restaurants (Paladars) staying in a combination of hotels & homes and so much more…
Our tour that caters exclusively to history buffs, that gets you up close and personal with the most momentous times and places in U.S-Cuba history!
The Cuban-American History Tour from Lewis & Clark Trail Adventures is an immersion into one of the most colorful places on Earth, covering more than 500 miles and 500 years of history. Between Lewis & Clark Adventures' history buffs and a select group of English-speaking Cuban guides, you will experience first-hand the history and culture of this incredible island.
We'll begin in the region of Cuba's "Second City," Santiago de Cuba. You will visit the site of the Battle of Las Guasimas, where Theodore Roosevelt and the Rough Riders saw their first action of the Spanish-American War. You'll travel to San Juan Hill, where Roosevelt famously overrode orders and led a successful charge that led to U.S. victory. And you'll see the Caribbean bay outside of Santiago where the U.S. Navy pummeled the vaunted Spanish fleet, leading to Spain's ultimate surrender.
You'll also have plenty of time to soak in the culture of Santiago de Cuba, a city known for its music and dancing, as well as its rich heritage of Afro-Cuban religions.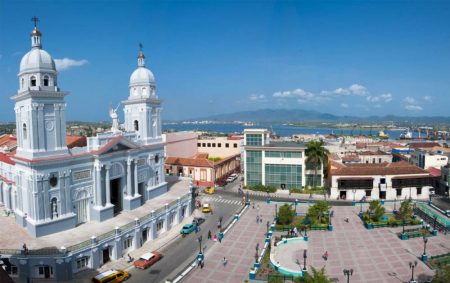 Then we'll take a day to travel through the heart of the island towards Havana, Cuba's capital city, with a stop at Bay of Pigs to explore the site of perhaps the biggest near-disaster in American history—and to take advantage of the world-class swimming and snorkeling opportunities there.
Once in Havana, we will visit Finca Vigia, where Ernest Hemingway lived and wrote some of his most memorable works. We'll also direct you to some of Papa Hemingway's favorite watering holes, such as La Floridita and La Bodeguita del Medio. And we'll visit the Hotel Nacional de Cuba, the site of the infamous Havana Conference, a meeting of mafia bosses memorably dramatized by Francis Ford Coppola in The Godfather Part II.
Lewis & Clark Trail Adventures has a long and successful track record of combining history, adventure and culture in our tours of the American West, and we bring that same level of detail and excellence to our Cuban-American
History Tours. Trips include all transportation, and we've selected excellent casa particulars (the Cuban version of B&B's) and other 4-star accommodations. Travel with us and experience an unparalleled, hassle-free dive into the rich history and culture of Cuba!
For all of our in-country logistics we have teamed up with Custom Latin Travel, owned by Joslin Fritz – Long-time traveler and international guide, Joslin began leading programs to Cuba in 2012.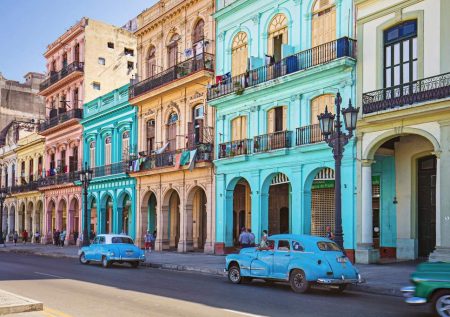 Some Important Dates in Cuban and US History relating to this tour
1492 – October 28 – Christopher Columbus lands in NE Cuba near the town of Baracoa
1492-1898 – Spanish colonization and rule of Cuba
1808 – President Jefferson sends General James Wilkinson (later to be known as a Spanish spy) to Cuba to find out if the Spanish would consider ceding Cuba to the United States. Spain was not interested.
1808-1897 – US Government was very much in favor of the annexation of Cuba
1897 – November – Spain's Queen offers Cuba autonomy. Cuban loyalists and rebels reject the offer. Meanwhile in Washington, D.C., Navy Assistant Secretary Teddy Roosevelt is urging President McKinley to intervene.
1898 – April – The battleship Maine blows up in Havana harbor. "Remember the Main" becomes a battle war cry. Responding to a perceived Act of War, U.S. enters the war with Spain. A later investigation named an internal fire as the likely cause of the explosion.
1939-1960 Ernest Hemingway lives part-time in Havana.
1959 – January 1 – Rebel Forces led by Fidel Castro overthrows the Batista dictatorship.
1961 – April 17 – U.S. Finances and organizes military invasion of Cuba at Bay of Pigs.
2018 – February – Lewis and Clark Trail Adventures travels to Cuba to explore the island and put together a hassle-free tour covering major historical sites and culture.
Dates: Fall 2023 TBD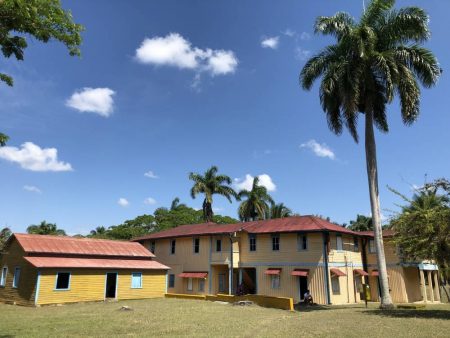 Itinerary & Provisions
Places Visited: Havana, Trinidad, Playa Giron, Sancti Spiritus, Santiago de Cuba
Tour Length: 8 nights, 9 days
(B,L,D signify meals included)
*Itinerary is subject to change
 – Travel Days
We meet in Miami and fly through Panama City to arrive on the eastern side of the island. Exact details TBD.
Day 1: Santiago de Cuba (D)
Arrive at Holguin Airport (or Santiago de Cuba airport)
Depart for Santiago de Cuba (approx. 2.5 hours)
Stop in Biran to tour the birthplace and family ranch of Fidel Castro

Castillo del Morro

Check in to accommodations (Hotel Imperial)
Welcome dinner
Day 2: Santiago de Cuba (B,L,D) (Focus on Spanish American War sites)
Explore Cuban/Spanish American War battlefield sites including Siboney, Las Guasimuas, El Carney, San Juan Hill, the Surrender Tree Monument
Lunch at nearby restaurant to the Morro Fort with a spectacular view
Visit to Morro Fort and discussion of the naval portion of the battle
Dinner on your own
Day 3: Santiago de Cuba (B,L)
Walking tour of Santiago de Cuba
Visit the Santa Ifghenia Cemetery to visit Fidel Castro's grave
Visit to Moncada barracks, the site where Fidel first tried to overthrow Batista in 1953.
Lunch at local paladar
*Optional hike to La Gran Piedra and Cafetal Isabelica
Explore the Emilio Barcardi Museum
Dinner as a group

Hotel Imperial
Day 4: Sancti Spiritus (B,L,D)
Travel to Sancti Spiritus (approx. 7-8 hours)
Explore the town on Sancti Spiritus with a local guide
Overnight in hotel Don Florencino
Dinner as a group
Day 5: Trinidad (B,L,D)
After breakfast, depart for Trinidad (approx. 1.5 hours)
Visit to Plaza Mayor, touring the UNESCO World Heritage site
Lunch in Trinidad
Visit to Valley de los Ingenios and Iznaca Manaca Former Sugar Plantation
Check into private bed and breakfasts
Dinner as a group
Day 6: Trinidad, Playa Giron, Havana(B,L,D)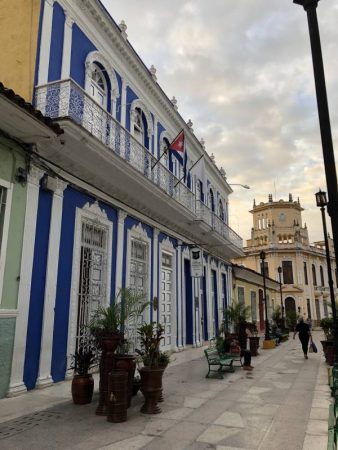 After breakfast depart for Playa Giron (approx 2.5 hours)
Visit the Bay of Pigs Museum
Lunch in Playa Larga
Check into accommodations in Havana in Hotel Capri
Dinner as a group
Day 7: Havana (B,L) (Focus on Ernest Hemingway)
Visit to Finca Vigia Hemingway home
Visit Monument of Maine
Lunch in Cojimar fishing village, checking out the spots where Hemingway used to stay
Visit to the fishing base where Hemingway kept his boat

Cuban country side

Visit to Cabana Fortress on the way back into town
Enjoy mojitos at the Hotel Nacional and learn about its famous history
Dinner on your own
This morning enjoy a walking tour of Old Havana led by an expert guide
Enjoy lunch in a charming paladar in Old Havana
Visit to the Museum of Revolution
Free time in the afternoon to spend time in Old Havana. Wandering the streets of Old Havana with a map in hand is truly the best way to explore this UNESCO
Farewell dinner as a group
Optional Tropicana show (to be paid on own)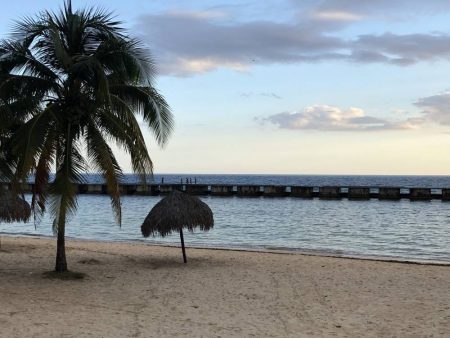 Day 9 (B)
After breakfast depart for your flight back to the State
Pricing
Price per person $TBD (based on double occupancy) 
$TBD Single Supplement applies after booking
Includes:
Experienced tour guide
Bottled water during trip
Legal, licensed people-to-people tour requirements completed

Old Havana

Meals outlined in the itinerary
Accommodations outlined in the itinerary
All entrance fees for activities in itinerary
Air-conditioned transportation while in Cuba
Airport transfers to/from Havana airport
 Not Included:
Airfare to/from Cuba and tourist visa
Travel and medical insurance
Meals not specified in itinerary
Gratuities for guides, drivers and baggage handlers
Items of personal nature – laundry, internet, beverages, etc.
 Expectations: We recommend all participants are in good health and fit enough to walk unassisted at least 1 mile, keep a brisk pace while walking on cobblestone, uneven sidewalks, up & down stairs and hills. Please feel free to email or call to chat more about what to expect.
For all our in-country logistics we have teamed up with Custom Latin Travel, LLC, owned by Joslin Fritz – Long-time traveler and international guide, Joslin began leading people-to-people exchange programs to Cuba in 2012.
If you have your own group, other areas of interest, dates, we can customize a tour with that in mind. Just let us know!
Questions about this trip or booking this tour, please Contact Us and type Cuba in the comments.
Your trip fees are non-refundable. For unforeseen cancellations, consider trip insurance. Travel protection through Travelex Insurance Services.  For more information on the available plans or to enroll: For Cuba only, you can only obtain policy by calling Travelex Insurance Services at 800-228-9792 and reference location number 26-0048.
Website: www.travelexinsurance.com
Travel Insurance is underwritten by, Berkshire Hathaway Specialty Insurance Company, NAIC #22276.55Y