Lewis & Clark Trail Adventures has been the leader in connecting travelers to the rivers of the historic expedition of Lewis & Clark from whitewater rafting near Missoula, Montana and Salmon, Idaho to the meandering current of the Upper Missouri River.
Lewis & Clark Trail Adventure 1 Day Rafting Trips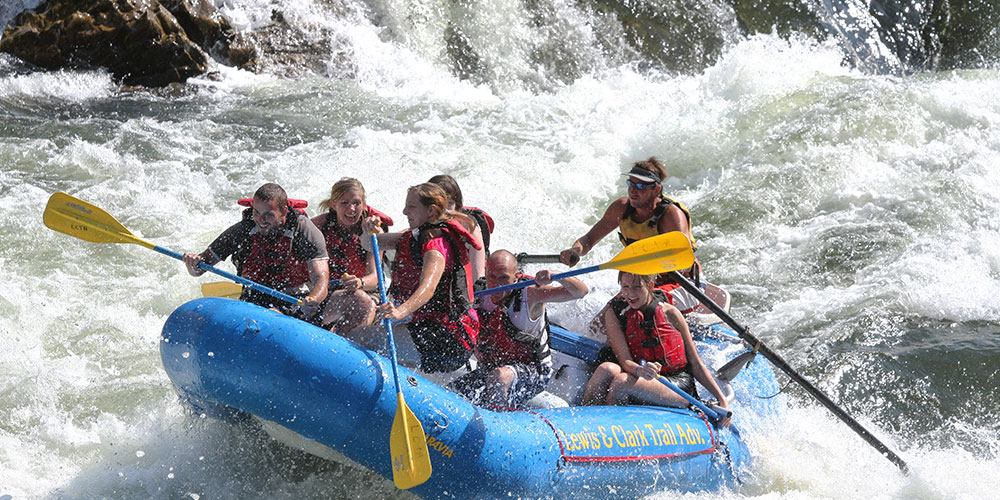 We offer active adventures with a personal touch. We take pride in the fact that many of our guests have been with us before and return for new adventures. Whatever your adventure: paddling the continuous big whitewater rafting the Lochsa River, navigating the free-flowing friendly whitewater of the Salmon River, introducing your family to their first whitewater rafting trips down the Alberton Gorge, or the beauty and history of Canoeing the Missouri River White Cliffs, you will remember meals prepared with care, time shared with old friends and new and the rejuvenating feeling that only comes from spending a day or a week on the river.
See your trip photos from Montana River Photography – Mike Malament does an amazing job!
Lewis & Clark Trail Adventures was founded by Wayne Fairchild, after graduating from the University of Montana in 1989. Wayne decided to start an outdoor recreation business that allowed him to share his enthusiasm for history and adventure. Every year Wayne and wife, Gia, travel along the Lewis and Clark Trail or travel abroad, gaining experience and learning about new people and places as a way to put their experience in context. Wayne and Gia oversee the organization of your trip based from Missoula, as well as guide some of the trips. They are happy to share their knowledge, and hope that you will enjoy traveling the Lewis and Clark Trail with them.
Meals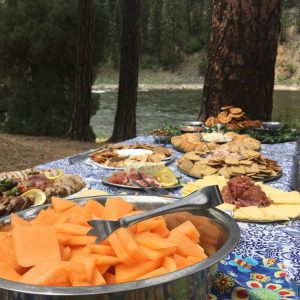 Meals prepared on the trips is more than merely sustenance. They are prepared fresh, hearty & healthy with diversity in flavor. LCTA takes pride in their menu, meals should be something you look forward to and expect more than your average camp cuisine. Start your day with a good cup of coffee and a hearty breakfast like French toast & thick sliced bacon, fresh fruit & juice, lunch is welcome rest with sandwiches made with quality deli meats & cheese, lots of fresh veggies & snacks, dinner might be marinated & grilled flank steaks, or dutch oven lasagna, colorful salad, bread from local bakeries. Beer and wine, in moderation, is provided with appetizers & dinner. Water, sodas or Gatorade is also provided. We are happy to accommodate various dietary needs so let us know your requests.
Equipment
Equipment is designed with your comfort as first priority. Complete trip provisions and recommended gear lists provided upon booking your trip.
We know that much of your experience relies on the personality and expertise of your guides. Rest assured, LCTA guides know how to show you a good time, beginning with safety. They all have years of experience on rivers and trails all over North America, and the world. LCTA guides are like family and return year after year, even if it just a trip or two each season on respite from their "real jobs!" Their skills, passion for the region, attention to detail, safety and shining personalities will make your adventure with LCTA one to remember.
Raft-IK-Tube-SUP Rentals
Ace Hardware in Eastgate for Tube & Floaty purchase – you can take the public bus to the put in at Sha-Ron in East Missoula and float back to town.
Shuttle Service for all rivers around Missoula
Trip Planning Resources:
Gear Lists & Recommended Reading
Trip Cancellation Policy & Guest Responsibility 
Need trip insurance?  For your convenience, we offer travel protection through Travelex Insurance Services.  For more information on the available plans or to enroll, got to www.travelexinsurance.com or contact Travelex Insurance Services at 800-228-9792 and reference location number 26-0048.
Travel Insurance is underwritten by, Berkshire Hathaway Specialty Insurance Company, NAIC #22276. 55Y