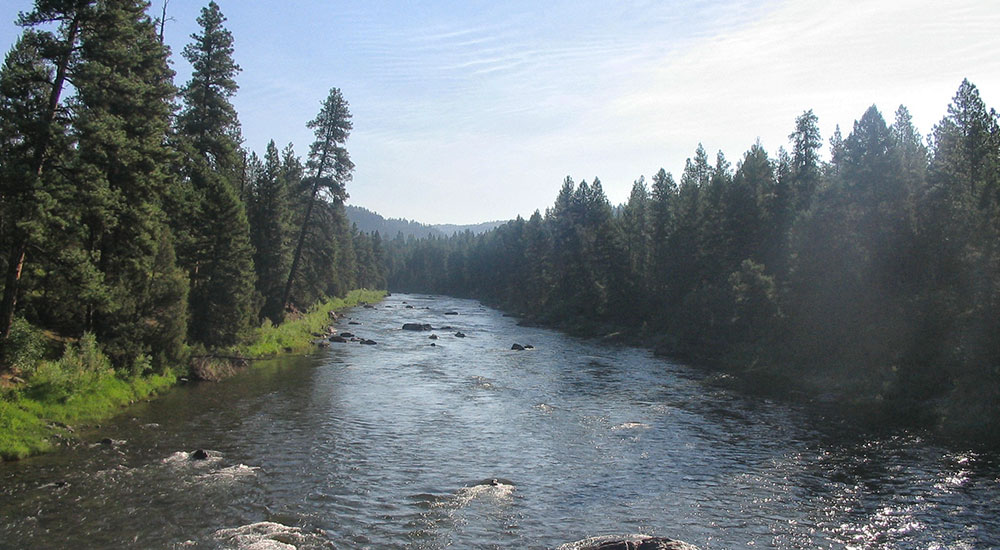 Located just a few miles east of Missoula, MT, the Blackfoot River offers a variety of river experiences. From its source near Lincoln, MT the river meanders through Cottonwood groves and meadows. As it picks up volume and follows west the river flows through some spectacular canyons, fun whitewater sections, ending with a lazy meandering float to Bonner, MT popular with floaters on hot summer days.
2018 Updates for Highwater
With our above average snow pack this year we anticipate a big run off this spring Woo-Hoo! We are fortunate in Missoula to have a choice of rivers. When the Alberton Gorge of the Clark for is too high, we will be running the Blackfoot River. The transition from Blackfoot to Alberton Gorge can happen anytime, but historically some time between end of June and early July. All the logistics are the same, meeting place, times and prices. We will constantly be monitoring the river levels in choosing the appropriate rivers, while keeping our commitment to safety and optimizing fun!
If you have any questions please call or email. Thank you!
Bring the family, this river is appropriate for beginner paddlers and for those looking for a scenic trip with a little whitewater. The optimal time for Class II-III whitewater on the Blackfoot is during spring run-off in May & June. Being a smaller tributary of the Clark Fork, this can be a better option when the Clark Fork's Alberton Gorge is flooded. For bigger more extreme whitewater, the best choice would be the Lochsa River.
Relating to Lewis & Clark
In Sept of 1805 while at Travellers Rest (Lolo, MT) they learn from the Native Americans of a route to the plains of the buffalo only 4 days travel yet they spent 52 days following the Missouri to its headwaters, over Lemhi Pass, down the Salmon River, then over Lost Trail Pass and down the Bitterroot River. During the winter at Fort Clatsop Lewis & Clark had decided that when they returned to Travellers Rest they would divide and party in order to make two explorations which they had not made on the westward journey. Lewis is to traverse the route to the Great Falls which they are sure is shorter and better than the once the took westbound. He will go up the Blackfoot River, cross the divide, then on to the Great Falls.
Milltown Dam Removal
Since the removal of the Milltown Dam (Built in 1906 by copper king William A. Clark) it will once again be possible to navigate the Blackfoot to the Clark Fork River and into Missoula, MT. Read more about this process.
Interesting history and landscape
The Native Americans called the Blackfoot River "cokalahishkit" meaning river of the road to the buffalo and the valley was guarded by the Blackfoot Indians. Tribes would follow the river to its headwaters over the continental divide and out to the prairie grass lands of the Buffalo near present-day Great Falls. We think one of the most beautiful drives in the state is on Hwy 200 following this route from the Blackfoot River canyons to the expanse of the Rocky Mountain Front.
Blackfoot River Rates & Dates
Runs May-September, Optimum levels for Class II-III whitewater May & June only
Full Day
$75 adult – $60  youth under 14
Meets at 8:45 and returns approx 4pm
Half Day – No Lunch
$55 adult – $45  youth under 14
Afternoon 1/2-day meets at 12:30 and returns approx 5pm
Afternoon with Appetizers
$95 adult – $75  youth under 14
Meets at 12:30 and returns approx 7pm
Gourmet Dinner
$115 adult – $95  youth under 14
Meets at 12:30 and returns approx 8pm
2-day trip with overnight camp
$325 adult – $275  youth under 14
Meets at 9am and returns next day at 4pm
Call 406-728-7609 to book your overnight trip!
1 1/2-day trip with overnight camp
$275 adult – $225  youth under 14
Meets at 12:30 and returns next day at 11am
Call 406-728-7609 to book your overnight trip!
Trip Details
Minimum group size required for a trip to launch, please call ahead to reserve and ensure trip departures
Blackfoot trips usually depart from our office at 912 E. Broadway, Missoula MT, we can also meet you at the one of the river take-outs (Blackfoot River flows westward towards Missoula) or custom pick up location can be arranged for large groups. Return times are estimations and depend on water level, allow for delays.

Minimum age limit varies according to water level. Summer levels 6 yrs old.

We provide a professional whitewater guide, transportation to and from our office, paddle, Coast Guard approved PFD and beverages for the return drive.
Trip Resources: Gear Lists & Recommended Reading
Trip Map
The start of our Blackfoot Trips depends on the river flow, the takeout is at Johnsrud Park.