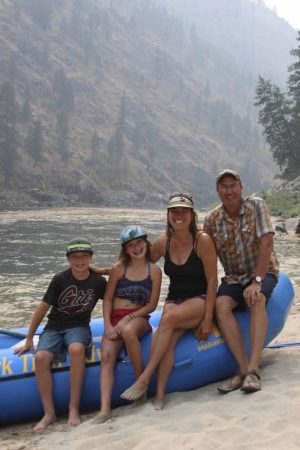 When Lewis & Clark and the Corps of Discovery set out to map a route to the Pacific Ocean in 1803, they did so with courage, smarts and above all else an undying thirst for adventure.
When history buff and river aficionado Wayne Fairchild set out to make a profession out of his passion in 1989, he was lit by the same fires as the namesakes of his burgeoning company. And since that day, Lewis & Clark Trail Adventures has been unrivaled in connecting modern travelers to the spirit of adventure embodied by Lewis & Clark.
Lewis & Clark Trail Adventures is based out of Missoula, Montana—just a stone's throw from the famed Traveler's Rest site, where the Lewis & Clark expedition famously took the time to gather strength before surmounting the magnificent Bitterroot Mountains on their first crossing, and before splitting up map different routes on their return trip.
From this central location, LCTA explores the heart of terrain that continues to capture the imagination of adventurers worldwide. Whether its following the meandering wake of Lewis & Clark on a canoe trip along the Wild & Scenic upper Missouri River, or a history-soaked hike on the legendary Lolo Trail, LCTA is the only outfitter dedicated to putting you in the footsteps of the legendary explorers.
Of course, modern modes of river travel allow for a far more thorough exploration of wild water than was possible at the turn of the 19th century. LCTA offers spirited trips through water Lewis & Clark could only dream of running: the gorgeous Alberton Gorge on the Clark Fork River; the remote, free-spirited Salmon River; the untamed and unruly Lochsa River (meaning "rough water" in native Nez Perce, the Lochsa's Class 4 and 5 rapids forced the Corps of Discovery overland to the Lolo Trail).
As thrilling as the physical adventures with LCTA can be, though, they are always balanced by a high sense of style and comfort. River and trailside meals are sumptuous and diverse, and camp accommodations are the definition of outdoor luxury.
LCTA's high percentage of repeat clients is a direct testament to the unparalleled quality of their adventures. Wayne and Gia have cultivated a family of professionals dedicated to making your once-in-a-lifetime adventure come true, no matter how many times (or places) you chose to do so. The spirit of adventure is alive and well in Montana and Idaho—come see for yourself the land and water that are waiting when a band of brave souls first opened the door to the American West.