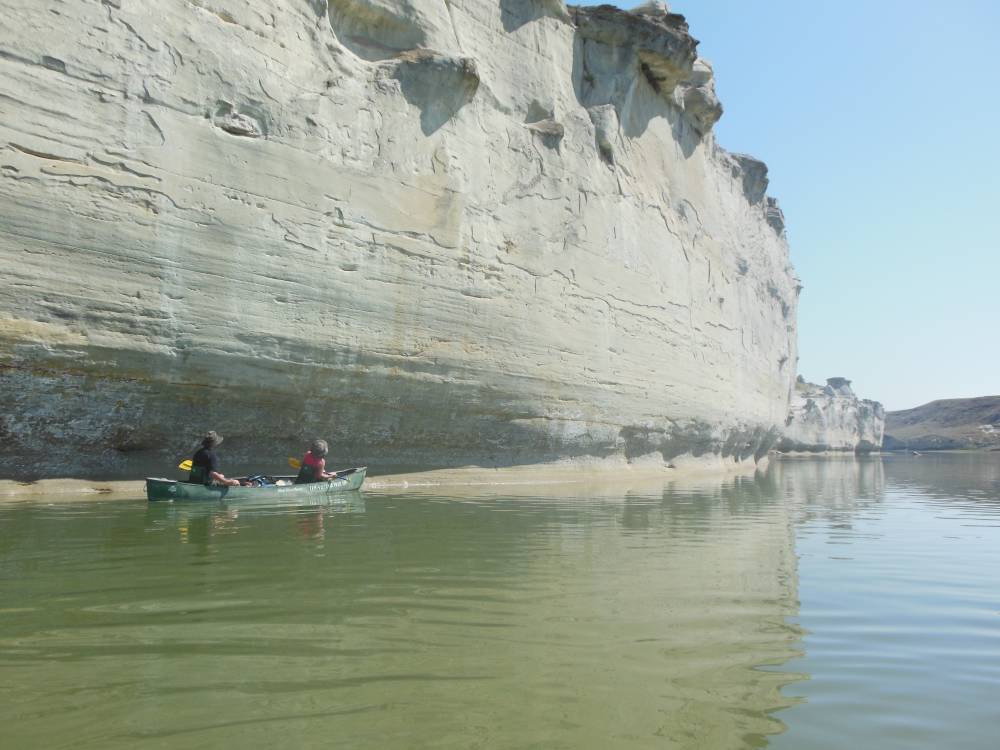 Paddle the Wild & Scenic Upper Missouri and uncover the layers of history. Most notably, the cross continental journey of Lewis & Clark. Stephen Ambrose's book, Undaunted Courage, has inspired many to paddle this section of the Missouri River also known as The White Cliffs. You'll camp where they camped, see what they saw and learn about their trip from our experienced guides. For any river traveler, this trip offers a very accessible route of discovery: geology, wildlife, Native American culture, early explores and the pioneers that followed. The landscape has changed little since Lewis & Clark passed through the Upper Missouri in the spring of 1805. River travelers today can appreciate the words of Meriwether Lewis when he wrote of the endless "seens of visionary inchantment…"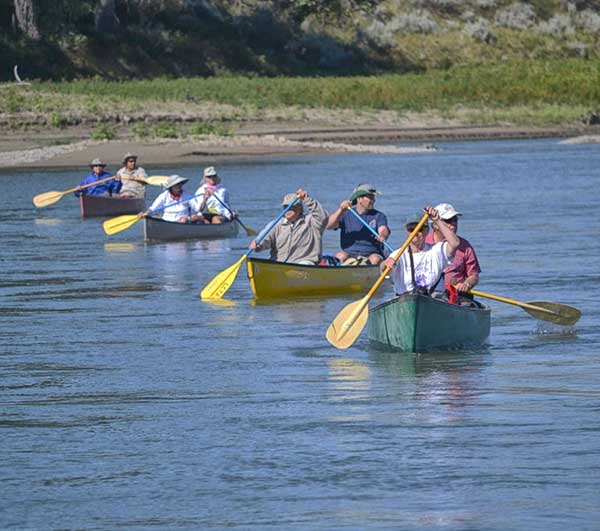 You will enjoy paddling the gentle and meandering current through breath taking White Cliffs of Eagle sandstone and igneous rock formations. Our camps include Eagle Creek and Slaughter River, both Lewis & Clark campsites. Throughout this trip, you will have plenty of opportunities for on-shore exploration. Some highlights include Native American teepee rings, petroglyphs, narrow slot canyons, Hole-in-the-wall rock formation, plant identification, wildlife viewing and USGS markers for L&C campsites.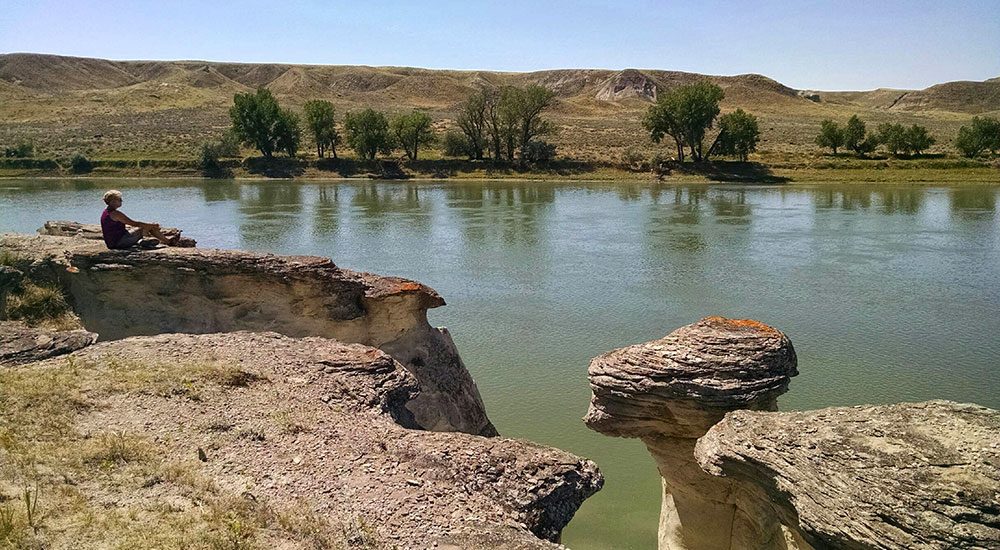 Level of difficulty
Canoeing the Missouri appeals to beginner and experienced paddlers alike. The gentle meandering current allows you the solitude to paddle your own tandem canoe a long side our guides. Large canoes may be available with advance notice for larger groups.
Meals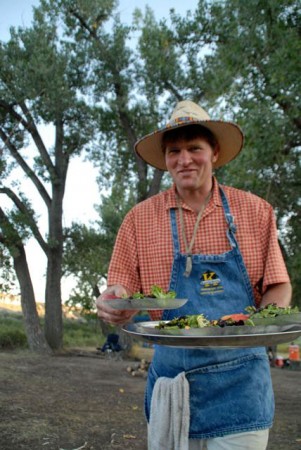 We take pride in their camp menu. Meals should be something you look forward to and expect more than your average camp cuisine. Start your day with a good cup of coffee and a hearty breakfast like pancakes & sausage with fresh fruit & juice, lunch is welcome stop with sandwiches made with quality deli meats & cheese, lots of fresh veggies & snacks, dinner might be grilled flank steaks, dutch oven potatoes, colorful salad, bread from local bakeries. Beer and wine, in moderation, is provided with appetizers & dinner. Water, sodas, lemonade/gaterade is also provided. We are happy to accommodate various dietary needs so let us know your requests.
Missouri River 3-day Trips
The 3-day itinerary allows you to fully experience White Cliff section of the Missouri and nicely fits into an itinerary for those visiting Montana. If you are looking to continue following the Lewis & Clark Trail, plan a hiking trip on the Lolo Trail, retracing their arduous journey overland across the Bitterroot Mountains. This off the beaten path adventure is for those who seek the remote sections of the trail. Vehicle supported hiking walking or van tours can be catered for all abilities 1-3 days. Lewis & Clark Trail Adventures is the only outfitter licensed and permitted on the Missouri River and Lolo Trail.
Missouri River 6-day Trips
For a more extensive trip on the Missouri, extend the journey down the river less traveled, from Judith Landing, where our 3-day trip ends we enter the Badlands of the Upper Missouri. The topography changes from Eagle sandstone and igneous rock formations to the high & grand bluffs of Claggett shale. We continue camping at Lewis & Clark expedition campsites of May 27 & 25, 1805, passing the bluffs near Bullwacker Creek where Lewis first viewed the Rocky Mountains. As we enter the Charles M. Russell Wildlife Refuge, wildlife viewing opportunities abound. In this protected area elk graze, bighorn sheep climb precariously in the bluffs and water fowl thrives in the natural riparian environment.
Missouri River Specialty Trips
Throughout the season, we offer Missouri River trips with special guests who bring an added element of knowledge to our trips, these trips are always popular, so make sure you reserve early!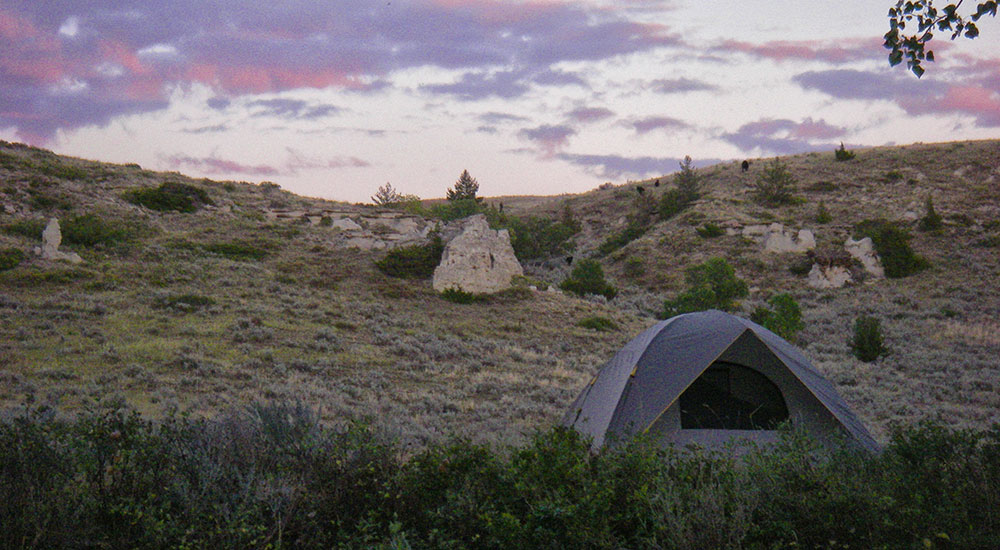 Missouri River Rates & Dates
In addition to the dates below, we have may open dates May – September contact us for most current availability.
Note that when you make your reservation, status will be pending until we manually confirm and run the deposit. We only run the deposit to book your trip not the full amount. Balance is due 90 days prior to launch date.
Need trip insurance? Insure My Trip is a website where you can compare a variety of options.
Read more details on our specialty trips.

Logistics
Our Missouri trips meet in Fort Benton, MT and begin paddling from Coal Banks Landing, 45 miles downriver from Fort Benton. The closest airport to fly in/out of would be Great Falls, MT. We are happy to help you plan the best itinerary for you based on what areas of the Lewis & Clark Trail you would like to see. Feel free to call us for suggestions or to help plan a custom itinerary.
Gear
The gear is designed with your comfort in mind. The following items are provided on our standard trips.
Guided Canoeing, Hiking and Camping with historical Interpretations
Camping Equipment to include 4-Person dome tents (2 adults), sleeping pad and Camp Chair
River equipment to include tandem canoes, Crazy Creek canoe seats, paddles & life jackets
Dry Bags for personal items, clothing and sleeping bag (you bring unless renting sleeping bag)
All meals starting from first day's lunch to last day's lunch – complete outfitter kitchen provided
Beverages including drinking water, Gaterade or sparkling water and/or soda. Beer & wine in moderation 2 per person.
Emergency equipment
Shuttle Transportation based out of Fort Benton
Safari Style Camping
Camp set up in advance, larger stand-up tents, cots, sit-down dinner with table service
Additional rates apply based on exact provisions, itinerary and menu
Custom dates available – please inquire
Trip Resources: Gear Lists & Recommended Reading
Trip Route