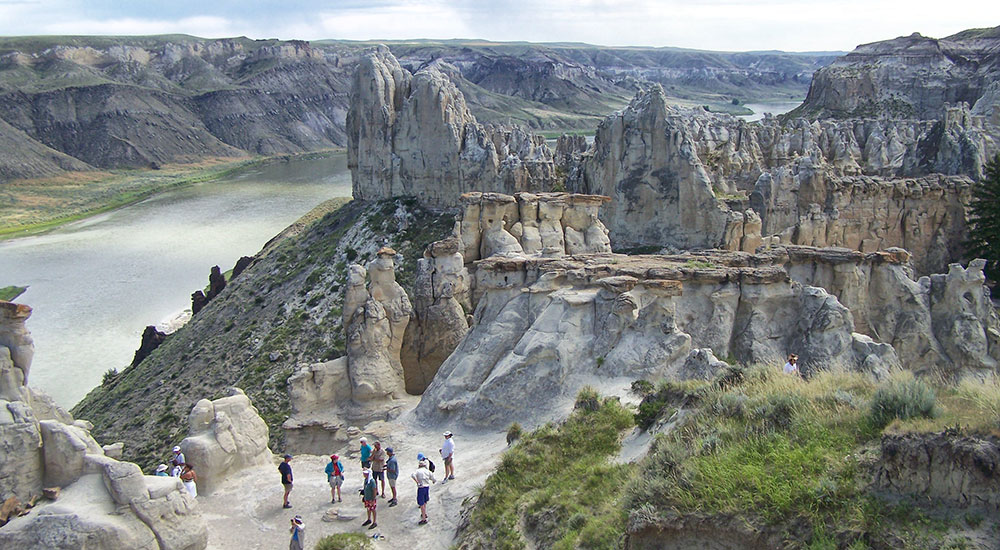 For the most comprehensive Lewis & Clark adventure combine our canoe trip on the Wild & Scenic Upper Missouri and walk in the last true remaining footsteps of Lewis & Clark on the Lolo Trail, where little has changed since the expedition crossed this ancient trail.
Lewis & Clark Trail Adventures is the only outfitter licensed and permitted on BOTH the Missouri River AND Lolo Trail.
Experience why Lewis & Clark described the Lolo Trail as the most challenging yet majestic portion of their journey. We'll visit sites along the trail where they endured great hardship like Wendover Ridge and Snowbank Camp or the "inexpressible joy" on Spirit Revival Ridge. The Lolo Trail is a high mountainous ridgeline trail that allows you to see where the expedition came from and brings to light the decisions they faced. You will have the opportunity to explore Lewis Clark camps rarely visited in the last 200 years like 13-Mile, Sinque Hole, Lonesome Cove and many more.
Lewis and Clark's Adventures
Following the westward journey of the expedition allows you to experience the landscape first hand as they saw it coming up the Missouri (we paddle downstream). Stephen Ambrose's book, Undaunted Courage, has inspired many to paddle this section of the Missouri River also known as The White Cliffs. You'll camp where they camped, see what they saw and learn about their trip from our experienced guides. For any river traveler, this trip offers a very accessible route of discovery: geology, wildlife, Native American culture, early explores and the pioneers that followed. The landscape has changed little since Lewis & Clark passed through the Upper Missouri in the spring of 1805. River travelers today can appreciate the words of Meriwether Lewis when he wrote of the endless "seens of visionary inchantment…"
Level of difficulty
Canoeing the Missouri appeals to beginner and experienced paddlers alike. The gentle meandering current allows you the solitude to paddle your own tandem canoe a long side our guides. Large canoes may be available with advance notice for larger groups.
Hiking the Lolo Trail – The most challenging section of trip is Wendover Ridge. The trail begins with a 2 miles of switchbacks then follows the ridgeline for 6 miles. It climbs approximately 3000 vertical feet from the Lochsa River to Snowbank Camp. This trail climbs steadily and really gives you a feel for the difficulties the expedition faced. This trip does not require any technical skills but we recommend you are in good physical condition, have previous hiking experience climbing in elevation and the desire and determination to reach the top! If others in your group want to see the Lolo Trail but not climb Wendover Ridge an alternative itinerary can be planned with historical interpretations and both groups will meet at camp to share their stories of the day.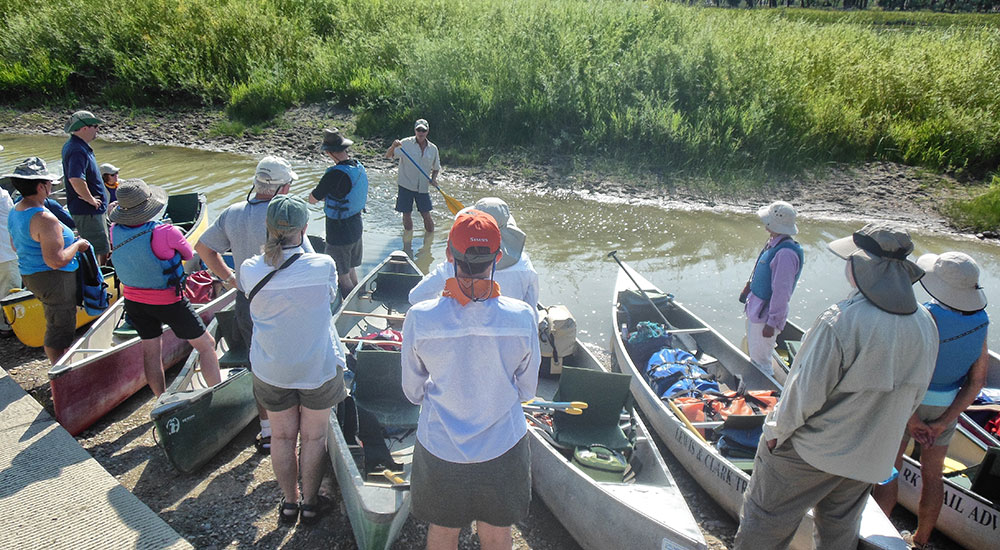 Logistics
Our goal as an outfitter on this trip is to help you get off the beaten path to see remote areas of the L&C Trail not accessible by car. Below is information to help you plan the "self-guided" discovery of the L&C trail along highways and towns.
Our Missouri trips meet in Fort Benton, MT, 35 NE of Great Falls, MT on Hwy 87. We begin paddling from Coal Banks Landing, 45 miles downriver from Fort Benton and provide transportation based out of Fort Benton. The Lolo Trail trips meet and return to Lochsa Lodge, 50 miles west of Missoula, MT on Hwy 12 and we provide transportation based out of Lochsa Lodge.
When doing a Missouri River & Lolo Trail combo trip, we recommend renting a car to experience at your own pace the scenery and easily accessible Lewis & Clark interpretive stops for example:
Lewis & Clark Interpretive Center in Great Falls, MT
"The Great Falls" at Ryan Dam near Great Falls, MT
The Gates of the Mountains boat tour near Helena, MT
Lewis & Clark Pass near Lincoln, MT
Travelers Rest Interpretive Center near Lolo, MT
USFS Interpretive Center at Lolo Pass border of MT & ID
We suggest having map of MT & ID and the L&C route handy while planning your travel itinerary: There are two different routes between the Missouri River and Lolo Trail, either Hwy 12/I-15 through Helena, MT and Hwy 200 through Lincoln, MT. One could fly in/out if Missoula and rent a car based from Missoula that way at the end of your trip on the Lolo, just a short drive to Missoula for lodging and flight out. If more pressed for time, one could fly into Great Falls and out of Missoula with a one-way car rental. We are happy to help you plan the best itinerary for you based on what areas of the Lewis & Clark Trail you would like to see. Feel free to call us for suggestions.
Your estimated drive times not including stops at road side historical sites:
Great Falls to Fort Benton: approx 45 min
Great Falls to Missoula: approx 3 hours
Missoula to Lochsa Lodge: approx 1 hour
Total from Fort Benton to Lochsa Lodge: approx 5 hours
What's Included
Meals
We take pride in their camp menu. Meals should be something you look forward to and expect more than your average camp cuisine. Start your day with a good cup of coffee and a hearty breakfast like pancakes & sausage with fresh fruit & juice, lunch is welcome stop with sandwiches made with quality deli meats & cheese, lots of fresh veggies & snacks, dinner might be grilled Steaks or Wild Salmon, dutch oven potatoes, colorful salad, bread from local bakeries. Beer and wine, in moderation, is provided with appetizers & dinner. Water, sparkling water / sodas, Gaterade is also provided. We are happy to accommodate various dietary needs so let us know your requests.
Gear
The gear is designed with your comfort in mind. The following items are provided on our standard trips.
Guided Canoeing, Hiking and Camping with historical Interpretations
Camping Equipment to include 4-Person dome tents (2 adults), sleeping pad and Camp Chair
River equipment to include tandem canoes, Crazy Creek canoe seats, paddles & life jackets (Missouri)
Dry Bags (Missouri) for personal items, clothing and sleeping bag (you bring unless renting sleeping bag from us $35)
All meals starting from first day's lunch to last day's lunch – complete outfitter kitchen provided
Beverages including drinking water, Gaterade or sparkling water and/or soda. Beer & wine in moderation 2 per person.
Emergency equipment – first aid kit and satellite phone
Shuttle Transportation based out of Fort Benton for Missouri and Lochsa Lodge for Lolo Trail
Safari Style Camping Optional Upgrade
Camp set up in advance, larger stand-up tents, cots, sit-down dinner with table service
Up-charge rates apply based on exact provisions, trip length and menu
Custom dates maybe available – a trip date is either standard camping provisions or safari style
Trip Details
Call or email for additional availability, group & family discounts and putting together a custom Lewis & Clark active adventure.
Remember, Lolo Trail should be planned mid-July and/or after to allow for snow pack to clear. Give us a call to discuss the best itinerary for your adventure!
Missouri River Canoe & Lolo Trail hiking Combo trip – 6-Day
$1775 adult / $1575 youth under 14
Missouri River & Lolo Trail Combo Itinerary
Date:  TBD on the Missouri River and TBD on the Lolo Trail. TBD is a free day to allow a self-guided travel day from Fort Benton/Great Falls to Missoula/Lochsa Lodge.
The Missouri River Canoe Trip and the Lolo Trail Hiking Trip are available as separate activities and therefore must be booked as separately. During checkout, you can add each trip to your cart and pay for them together. 
Missouri 3-day Canoe Trip $825 adult / $725 youth under 14 
Lolo Trail 3-day Hiking Trip $950 adult / $850 youth under 14 
Trip Planning Resources:
Gear Lists & Recommended Reading
Trip Cancellation Policy & Guest Responsibility 
Need trip insurance?  For your convenience, we offer travel protection through Travelex Insurance Services.  For more information on the available plans or to enroll, got to www.travelexinsurance.com or contact Travelex Insurance Services at 800-228-9792 and reference location number 26-0048.
Travel Insurance is underwritten by, Berkshire Hathaway Specialty Insurance Company, NAIC #22276. 55Y