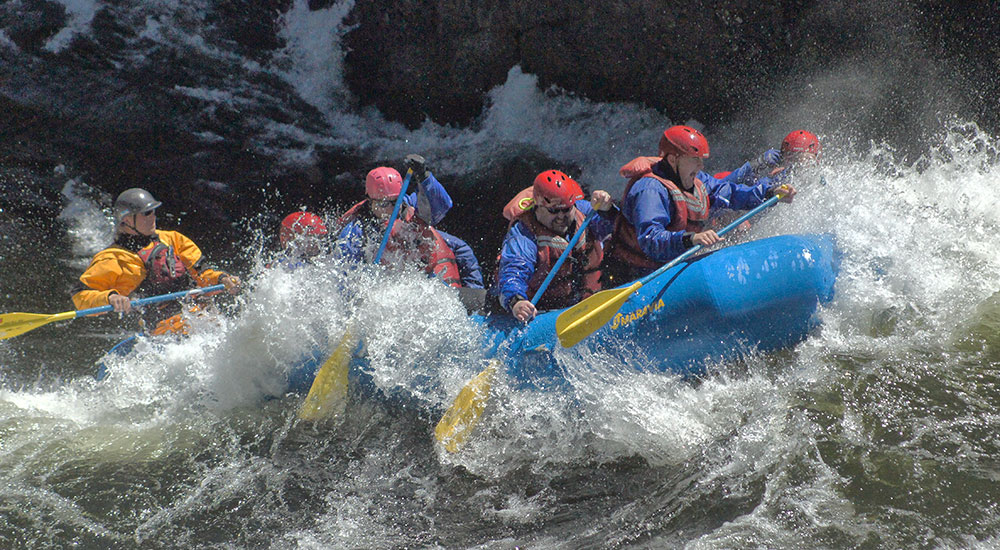 When the snow melts, the Lochsa River awakens, one of the greatest whitewater flows in the country – and the world. Pronounced "lock-saw" which means rough water in the Nez Perce Language. 37 Class III, 25 Class IV, and two Class V rapids will get your arms burning and your heart pumping. The names of the rapids say it all – Grim Reaper, Pipeline, Lochsa Falls, Termination – and you won't get much rest between.
As Outside Magazine says:
Unlike other big western whitewater, which runs pool-and-drop, most of the Lochsa simply drops, with little respite between rapids.
The Lochsa is a free-flowing river and navigable only during high water, this trip is available during May & June. Peak flows are usually mid-May to Mid-June and may be available in early July only when conditions allow.
Interesting facts about the Lochsa River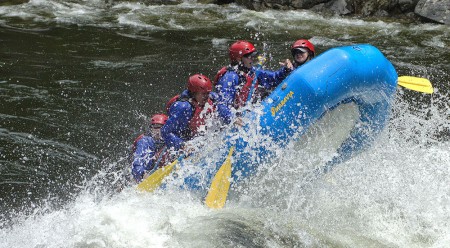 The main stem of the Lochsa is 70 miles (113 km) long from its headwaters near Powell Ranger Station in the Bitterroots to Lowell, Idaho, where the Lochsa joins the Selway River to form the Middle Fork of the Clearwater. Over this distance, the river drops nearly 2,000 feet (610 m) from 3,441 feet (1,049 m) above sea level at Powell to 1,453 feet (443 m) at Lowell. The drainage basin for the Lochsa River system covers 1,180 square miles (3,056 km2) in Idaho County. The river is fed by the melting of the significant snowpack of the Bitterroot Range.
Relating to Lewis & Clark
After traveling up Lolo Creek and over Lolo Pass they mistakenly followed a trail leading to a native American fishing weir on the headwaters of the Lochsa River, where Salmon return to spawn. They new the Lochsa River was not navigable for them and to further dishearten the corps they lost valuable time & energy losing elevation down to the rivers edge when they needed to stay high on the ridgeline cross Bitterroot travel route, the Lolo Trail. This error led them to the famous climb up Wendover Ridge.
Video of your trip down the Lochsa
COVID-19 Update
In order to comply with Idaho's Stage 3 reopening, May 30-June 12, we are implementing the following operational modifications for the 2020 Lochsa Season.
Check-in Process on-line to reduce the points of contact.
1. The LCTA cabin will NOT be available, we will meet in the grassy area when you pull into the lodge for gear check out. Please wait to check in from a distance vs gathering as a large group near the check-in area.
2. Advance Payment can be made from your reservation profile
3. Electronic Waiver Signature – Also provided in your reservation profile
5. Please maintain social distancing from the other groups while at the put-in, on the river, at lunch and at the take-out.
6. Box lunches and canned and/or bottled beverages.
7. Photography offerings will be limited and only available on-line due group size limitations at the Lodge.
Lochsa River Trips Rate & Dates
Runs May-Early July, Peak levels Mid-May to Mid-June
Lochsa River – $130
When the snow melts, the Lochsa River awakens, one of the greatest whitewater flows in the country – and the world. Pronounced "lock-saw" which means rough water in the Nez Perce Language. 37 Class III, 25 Class IV, and two Class V rapids will get your arms burning and your heart pumping. The names of the rapids say it all – Grim Reaper, Pipeline, Lochsa Falls, Termination – and you won't get much rest between. Group discounts available, contact us for a quote!
Trips normally run every Saturday in May & June.
Additional trips available with a minimum of 10 paddlers = two boats. Call or email for most current availability.
Lochsa River Hi-Adventure – $152
Lochsa River Hi-Adventure. This trip is fondly referred to as the "dirty 30"! By adding an additional 10 miles to your Lochsa whitewater rafting experience it will be a wild ride of 30 intense miles on the Lochsa.
Check in time might be earlier than your regular 8am Pacific time check in, please refer to direct correspondence for custom meeting times.
Group size minimum of 2 boats, let us know if you would like to plan a trip on your preferred date.
Stay at the Lochsa Lodge
Annual Bartenders Paddle May 17, 2021
A Missoula Service Industry Appreciation Promo – We appreciate the hard work Missoula's bartenders and servers do for us! 
New Location: Wilderness Gateway Campground – Idaho Highway 12 W at mile marker 124 (95 Miles from Missoula)
Teams of employees compete for the coveted PADDLE. Teams are judged by their level of participation, team spirit and the unknown factor of big river adventures.
Space is limited —- Pick a team leader —- Sign up ALL participants from your establishment on same reservation. Add ons OK, email or call to get them added to your roster.
Full payment is required at time of booking and no refunds. 
Special Provisions and details for Bartender Promo trip ONLY:
Lochsa River regular trip cont'd….
Trip Provisions
Wetsuit
Neoprene booties
Splash Jacket
Helmet
PFD & Paddle
Lunch on the River
Beverages for the ride back to Lochsa Lodge
Shuttle based from Lochsa Lodge
Most weekends – we provide photos or video showing back at the Lodge
Trip meet at 8am PACIFIC Time (9am MST) at the Lochsa Lodge (unless otherwise arranged)
Dry Suit Rental

Your comfort and safety is the highest priority at LCTA. Advancements in dry suit technology is greatly improving their accessibility and can greatly enhance your whitewater experience! We are building our inventory, but quantities and sizes are limited, call or email for sizing and availability. Our Dry Suits are made by OS Systems in Oregon.
Size               Weight / Height
SM             115-135 lb / 5'3″-5'6″
MED         135-160 lb / 5'8″-5″11″
LGE          165-200 lb / 5'10"-6'1″
XLG          200-230 lb / 6'1″-6'3″
Design: All K2 Drysuits are designed with Freedom CutTM features for complete and unrestricted freedom of movement.
Entry: Back shoulder entry, #8 diving quality, brass tooth zipper for guaranteed watertightness.
Waist: : Drysuit has a bungie cord waist.
Reinforcing: 500 denier Cordura is used for the Butt Pad and the Knee Pads for strength and improved slip control.
Seals: Neoprene Neck gaskets, LongLife LatexTM commercial grade rubber wrist seals.
Seams: Seams are double stitched for strength and fusion sealed on the inside for water tightness.
Testing: Each dry suit is individually tested under pressure and under water.

$25 per day
Safety Talks on the Lochsa
We understand that much of your experience relies on the personality and expertise of your guide. Rest assured, LCTA Lochsa River guides know how to show you a good time, beginning with a complete safety briefing prior to launching. Some of the guides have been guiding the Lochsa for over 10 years!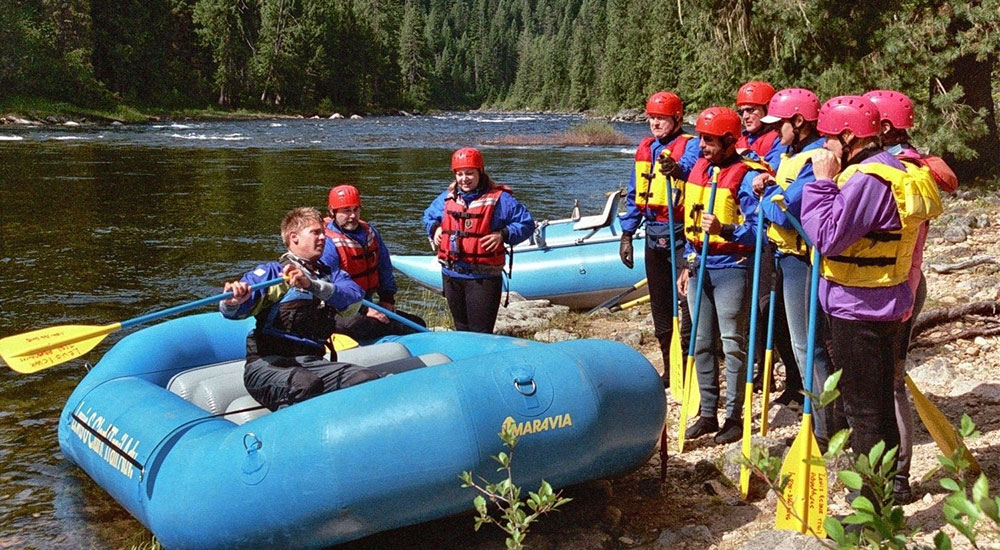 Trip Details:
We recommend participants on the Lochsa River be at least 16 years old
Our Saturday & Sunday trips tend to be more popular, but if you are looking for Mon-Fri, call us for availability and discount, we need a group minimum to make a trip go
Trips depart 8:00am PACIFIC TIME, from Lochsa Lodge (50 miles west of Missoula, MT on Hwy 12) and return approx 4:00pm, depending on water flows, higher flows return earlier.
We Provide a professional and IOGA licensed whitewater guide, transportation to and from Lochsa Lodge, lunch on the River, wetsuit, neoprene booties, splash jacket, helmet, paddle, Coast Guard approved PFD, beverages for return drive and video showing at the Lochsa Lodge.
Stay at the Lochsa Lodge, Call 208-942-3405 for reservations.
Trip Planning Resources:
Need trip insurance?  For your convenience, we offer travel protection through Travelex Insurance Services.  For more information on the available plans or to enroll, got to www.travelexinsurance.com or contact Travelex Insurance Services at 800-228-9792 and reference location number 26-0048.
Travel Insurance is underwritten by, Berkshire Hathaway Specialty Insurance Company, NAIC #22276. 55Y
Trip Start
Trips are based from the historic Lochsa Lodge, only 50 miles from Missoula, MT. Surrounded by ancient cedar trees on the banks of the Lochsa river, you can enjoy a warm cabin, homemade meals from classic to gourmet. Choose from a variety of cabins, fresh comfort food at the restaurant, local brews at the bar and bonfire at night.
Trip Map