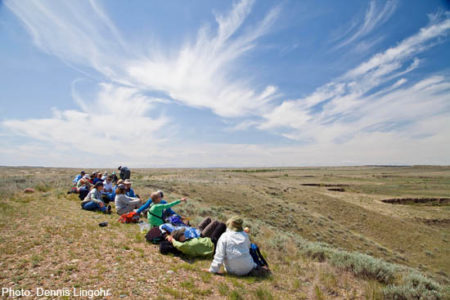 Join us on a multi-sport hut-to-hut adventure as you slow down to explore the Missouri River Breaks, American Prairie Reserve and the historic PN Ranch. Led by experienced and knowledgeable guides, this spectacular 4-night trip offers opportunities to explore, hike, and canoe with other active outdoors people. Gain a deeper understanding of the prairie's unique flora and fauna by traversing the vast prairie grasslands and wild and scenic rivers. Stop in your tracks to spot bald eagles soaring overhead, decode the secret language of the prairie dog, and if you are lucky, sneak a glimpse of bighorn sheep. Discover the cultural history of the first military post in Montana Territory and trace the steps of Native Americans and Lewis & Clark. As thrilling as the physical adventures can be, this trip is balanced by a high sense of style and comfort. River and trail side meals are healthy, sumptuous, and diverse, and camp accommodations are the definition of outdoor luxury.
Article featured in National Geographic
Video by National Geographic
3-1/2 Day Itinerary: 2023 Custom dates available – please inquire for details and pricing
4-1/2 Day Itinerary: 2023 Custom dates available – please inquire for details and pricing
Provisions
Guided Nature walks, Canoeing, Hiking and Camping with Interpretations
Camping Equipment to include either yurt space or wall tents at the PN Ranch, 4-Person dome tents on the river, sleeping pads and Camp Chair.
River equipment to include tandem canoes, Crazy Creek canoe seats, paddles & life jackets
Dry Bags for all personal items and will go in your canoe with you for easy access.
All meals starting from first day's lunch to last day's breakfast – complete outfitter kitchen provided. Most dietary restrictions can be accommodated.
Beverages including drinking water, Gatorade or sparkling water and/or soda. Beer & Wine in moderation 2 per person plus 1-2 glasses of wine with dinner. OK to supplement with your own provisions, beer in cans only, wine and liquor OK in glass.
Two nights lodging at the White Rock Lodge – ALL WHITE ROCK LODGE STAYS ARE POSTPONED TO 2022 – Alternative itinerary based from the Huts on the PN Ranch
Shuttle Transportation based out of Lewistown (unless alternative arrangements are made in writing)
— Sleeping bags are available rental available for $50, must reserve in advance.
You Bring:  Recommended gear list for personal gear and clothing attached and available on our website Trip Resources
This adventure can be privately chartered with a group minimum of 6 participants, based on available dates. Please inquire
Recommended age is 16 year and older.