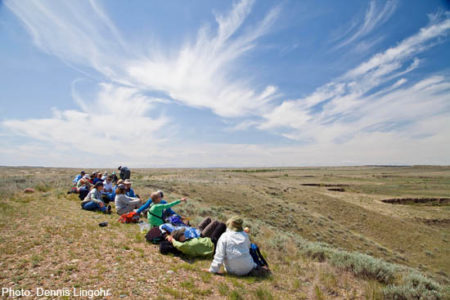 Date: August 24-28, 2020
Join us on a multi-sport hut-to-hut adventure as you slow down to explore the historic American Prairie Reserve PN Ranch. Led by experienced and knowledgeable guides, this spectacular 4-night trip offers opportunities to explore, hike, and canoe with other active outdoors people. Gain a deeper understanding of the prairie's unique flora and fauna by traversing the vast prairie grasslands and wild and scenic rivers. Stop in your tracks to spot bald eagles soaring overhead, decode the secret language of the prairie dog, and if you are lucky, sneak a glimpse of bighorn sheep. Discover the cultural history of the first military post in Montana Territory and trace the steps of Native Americans and Lewis & Clark. As thrilling as the physical adventures can be, this trip is balanced by a high sense of style and comfort. River and trail side meals are healthy, sumptuous, and diverse, and camp accommodations are the definition of outdoor luxury. This trip includes two nights stay at the White Rock Lodge.
Featured in National Geographic:
Article link:https://www.nationalgeographic.com/magazine/2020/02/two-visions-collide-amid-push-to-restore-montana-plain-feature/
APR Hut Traverse – Aug 24-29 2020
This adventure can be privately chartered with a group minimum of 6 participants.
Recommended age is 16 year and older.