Abraham Risho – TBD
Having grown up in a family immersed in the food service business, Abraham started as a protégé of local celebrity chef, Ray Risho.  He began to learn the business independently as garde manager at Nico's Catacombs in Fort Collins, Colorado and it was here that he learned that a departure from traditional institutional fare would be his calling.
He moved on to Johnson & Wales University's Culinary Arts Program and Graduated Summa cum Laude with an Associate of Arts degree in Culinary Arts, with emphasis on institutional and classic French culinary principals and techniques.
While in school, Abe fulfilled his extern requirement at the Trump Grille on Fifth Avenue with Trump Corporation in New York City.  His immersion into the corporate structure of this popular tourist facility rounded out his education, allowing him to hone his organizational and culinary skills.
Upon graduation from culinary school, Trump Grille executive chef, Steve Mandracchia, offered Abe the position of first cook in his popular destination facility, which served thousands of visitors in three distinct formats. The following year he was promoted to chef d'cuisine.
With a background in cuisines of the global kitchen and the personal mentoring of chef Mandracchia, he developed expert techniques in fusion cooking – a popular trend in Manhattan at he time.
Following stints as Sub-Contractor/ Soux Chef at Palomino Restaurant in Greenwich, CT and opening the highly successful Scarlet Oak Tavern in Massachusetts, Abe returned home to Missoula and helped Peter Lambros open the new Caffe Dolce.
Drawing on his family's extensive background in international fare and his own stay in Morocco to study language, culture and cuisine, Abe and his brother Sam opened The Silk Road restaurant – Missoula's newest adventure in global cuisine and old-world hospitality.
Inspired by the spices of the Silk Road and the wild game hunted, fished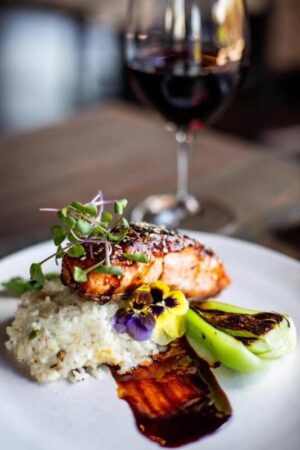 and consumed by the Lewis & Clark Expedition, Abe created these delicious dinner menus:
Day 1 Dinner
Apps; pork and cabbage gyoza, chicken yakitori skewers with sesame dressing
Salad; seared mushrooms in yuzu ponzu, bean thread noodle and bib lettuce
Entre; Togarashi miso glazed salmon with sushi rice, grilled bok choy and kimchi
Dessert; Poached pear in matcha syrup
Day 2 Dinner
Apps; lamb meatballs in tomato mint sauce, stuffed sweet peppers
Salad; fattoush salad with toasted pita,  tomato, cucumber, sumac dressing and greens
Entre; braised bison with chickpeas, green olives and preserved lemons, basmati rice with beluga lentils and caramelized onions, glazed carrots
Dessert; fennel almond cake in saffron syrup
Trip Planning Resources:
Need trip insurance?  For your convenience, we offer travel protection through Travelex Insurance Services.  For more information on the available plans or to enroll, got to www.travelexinsurance.com or contact Travelex Insurance Services at 800-228-9792 and reference location number 26-0048.
Travel Insurance is underwritten by, Berkshire Hathaway Specialty Insurance Company, NAIC #22276. 55Y