June 23-28
SALMON RIVER WRITING WORKSHOP:
The Human Wilderness Experience
---
23 – 28 JUNE 2019  /  MAIN SALMON RIVER  /  IDAHO
---
hosted by Brendan Leonard, author of Sixty Meters to Anywhere and creator of Semi-Rad.com
---
An intensive workshop in making compelling stories with humor, adventure, and ingenuity
---
Brendan Leonard, adventure writer and master of unconventional / modern literary arts, will lead this unique writing workshop on the Main Salmon River, through the heart of the rugged Idaho wilderness.
Dubbed "The River of No Return" by early explorers, the Salmon is a stunningly pristine, free-flowing, federally designated Wild & Scenic waterway; the Frank Church is the largest contiguous swath of wilderness in the continental United States. This 90-mile wilderness trip boasts big sandy beaches, exciting rapids, charismatic bighorn sheep, Native American pictographs, and natural hot springs.
Leonard will share lessons from his post-college "education," starting at small weekly newspapers (before Facebook, even!); the uncertain process of making a living as a full-time adventure writer, including how he grew his blog from zero readers to more than half a million readers per year; and how creatives can use traditional publishing, self-publishing, and social media to make a living in a dynamic media environment.
Brendan Leonard graduated from the University of Montana's graduate school of Journalism in 2004, and has spent a decade and a half learning how to tell stories his own way in diverse channels. He's written nine books, produced and directed several award-winning adventure films, and written for dozens of magazines. More than 3 million people have read his blogs on Semi-Rad.com since 2011, and more than 50,000 people see his cartoons every week on Instagram. He's a columnist for Outside Magazine, and his writing has appeared in Runner's World, Climbing, Alpinist, CNN.com, Men's Journal, Backpacker, Adventure Journal, among dozens of other publications.
This workshop is uniquely versatile. Our emphasis will be the discovery and review of elements of craft that writers can put to use, irrespective of subject matter. Established and emerging writers of all genres are encouraged to apply. Journalists, university writing students, science writers, creative writers, and environmental writers will certainly find this workshop valuable. There is no prerequisite of publication or formal writing education. 
The River….
Move at the river's pace and leave the rest of the world behind. This 90-mile stretch of premier Idaho whitewater is a classic river trip of the American West. The Salmon River carves out the second deepest canyon in North America. Each year run off deposits fresh sand beaches, creating a river paradise at every camp.
The craft…
The Main Salmon is a class III whitewater river. Most of the rapids are pool-drop or wide S-curves and empty into calm pools. This is perfect for whitewater enthusiasts of all levels. Kick back and relax on an oar boat, join a paddle team or jump in an inflatable kayak for the maximum adventure.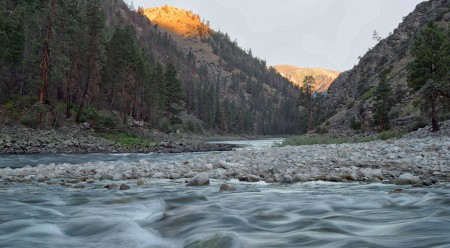 The canyon…
Barth Hot Springs, a highlight of the trip, is a natural hot springs with amazing views of the river. This free-flowing river cuts through the Frank Church River of No Return Wilderness, largest road less area in the lower 48 states, wildlife is abundant—Bighorn sheep, deer, moose, black bear, otters and water fowl
Printable Flyer